You're about to step out in a stylish jumpsuit, knowing that Shapewear is the perfect undergarment to wear. But what type of shapewear is the best for this particular outfit? Shapewear is one of the best ways to fight cellulite, smoothen the skin, and give you a more toned body. But what shapewear fits perfectly under a jumpsuit? From full body shaper to butt lifting shapewear, here are several options you can choose from:
Good High Waist Butt Lifter With 2 Side Straps and Anti-Slip
Good High Waist Butt Lifting Shapewear with 2 Side Straps Anti-Slip is a super soft high waist brief with adjustable side straps designed to provide quick moisture-wicking and support. The front hook is convenient for you to put on, and the two bones keep it upright, and easy to slip it on. Three-layer of fabric on the tummy enhances the firm hug and creates a sleek line. 1.37″ elastic waistband reduces dig-in and squeezes for comfort during wearing. You can rock this under any jumpsuit.
Wholesale Best Fajas Body Shaper Lace Open Crotch Flatten Tummy
This wholesale Faja body shaper has a padded and elastic compression fit for maximum comfort. The lace trim is designed to enhance the hip shape and hourglass body and flattens your tummy. The wide shoulder straps relieve stress and pain during activities and have an adjustable hook and eye closure for a snug fit. This body shaper is comfortable, stretchy, firm, and flexible while still looking good.
Shape My Day Butt Lifter Tummy Control Hooks Faja Full Body Shaper Shapewear
Shape My Day is a Shapewear that can help improve your posture and tone your body. It provides Tummy Control, Curves, Body Shaper and Control. These designs help the shape of your butt lift and waist near the back, which will be tight. The lace design at the foot and an epoxy strap at the waist prevent curling. These hooks have a four-row buckle design and are adjustable to fit any clothing size.
Full Body Deep V-Neckline Mid-Thigh Tummy Control Bodysuit
Get the perfect figure with our Full Body Deep V-Neckline Mid-Thigh Tummy Control Bodysuit. This long sleeve bodysuit is stretchy, breathable, and easy to wear for your day-to-day activities. With its deep v-neckline and mid-thigh length, you can wear it with various clothing and easily hide from undergarments or unwanted exposure. Additionally, it's made with an elastic tulle lining that offers a figure-hugging fit while still providing support and comfort.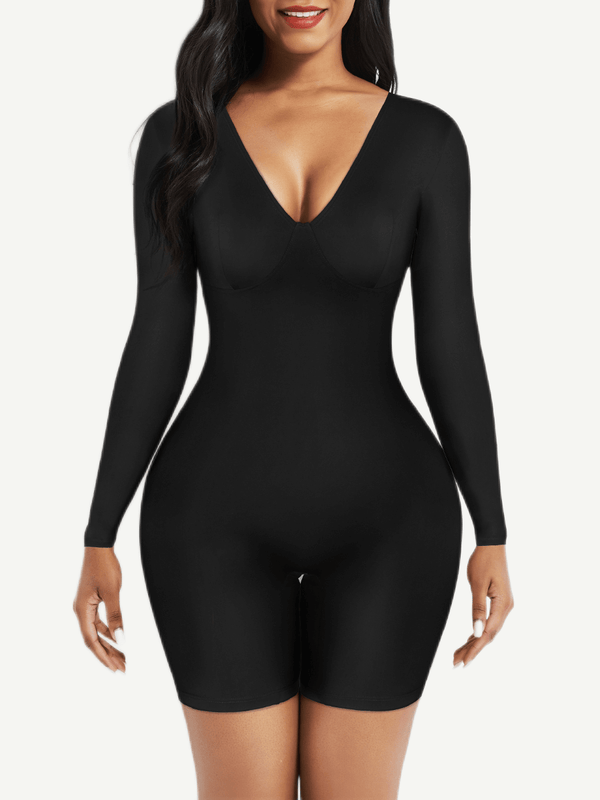 Large Size Full Body Shaper Fajas Front Zipper Smooth Abdomen
Designed for all body types, Large Size Full Body Shaper Fajas Front Zipper Smooth Abdomen is a new waist shaper that helps women look and feel sexy. This waist shaper works with different types of clothes and under tight-fitting clothes. Moreover, the reversible zipper allows this garment to be used in any color and style.