When it comes to selecting the right clothes for plus-sized women, a lot of people could get confused. Should I wear them fitted or not? What parts should I expose?  To start with, to get make the right choices for your plus-sized body, you should shop according to your body type, and not according to your size. Doing this would help you choose dresses with the perfect balance that suit your body perfectly. So just before you step into that store, you might want to check what type of shape you fall into- whether apple, pear, hourglass, rectangle or a combination of any of these. After settling this, be  assured that you'd find the perfect dress that would make you look great. And guess what? You don't need to break the  bank! Here are samples of cute dresses you should go for:
ASOS DESIGN Curve Scuba Bardot Ruched Side Long Sleeve Midi Dress:
It is 2020, yet the classic rule of 'the darker, the slimmer', is still relevant. You should want to flatter your body with this V-neck, wrap design black dress. Apart from the fact that you look slimmer in this, you also have the right amount of exposure in the dress, making it perfect for you, all day long, all year round.
ASOS DESIGN Curve Halter Drape Bodycon Midi Dress: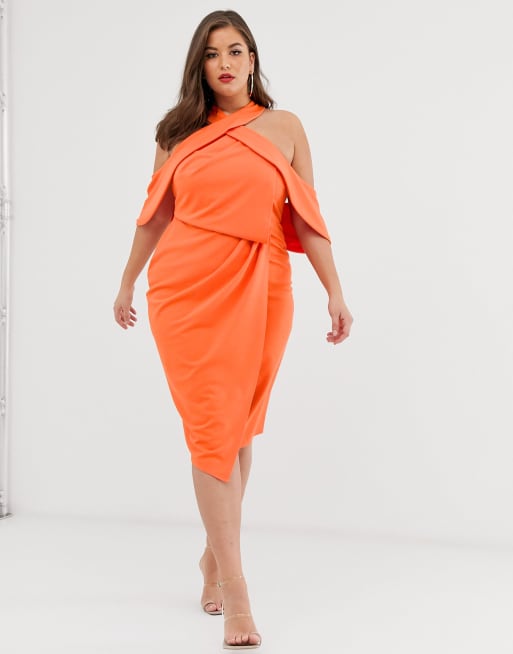 Just before you skip this option, who says a plus-size cannot rock a bodycon dress perfectly? Well, it is 2020, and that rule is long gone. This wrap skirt- designed dress is worth making plans for. It's a sure way to make you comfortable in a bodycon dress, as its halter neck and draped sleeves shift focus away from your tummy area and accentuates the shoulders instead. This is definitely a 'Yes' for all apple shaped plus size.
ASOS DESIGN Curve Midi Belted Shirt Dress in Slub: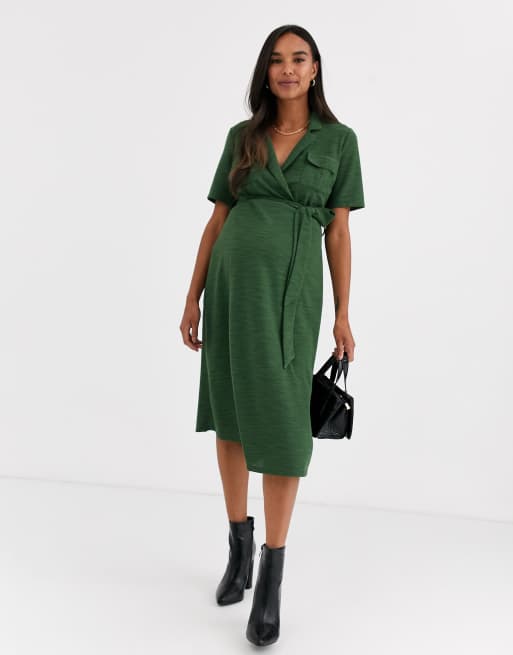 Shirt dresses would never go out of season. And this is just the perfect one your wardrobe needs. The neckline is designed to reveal a bit of skin in the bust area, thereby creating a point of focus, while the belt perfectly accentuates the waistline, to give that sexy look. For best results, if you are an hourglass or pear body shape, this is your go-to  for that chic look, as it perfectly showcases your assets- bust, waist, and hips.
Trendy  Plus-Size Floral-Print Fit & Flare Dress:
Do you know that plus-sized women can also play with colors? This right here is all you need to spice up your piles ofdark-colored clothes. This dress is perfect for a figure with a small upper body when compared to the broader lower body. It accurately highlights your shoulders, slimmer arms, waist and your legs, while it flatters your hips, buttocks and upper legs. This is definitely the right choice for every pear-shaped body.
Outrageous Fortune Plus Ruffle Wrap Dress with Fluted Sleeve: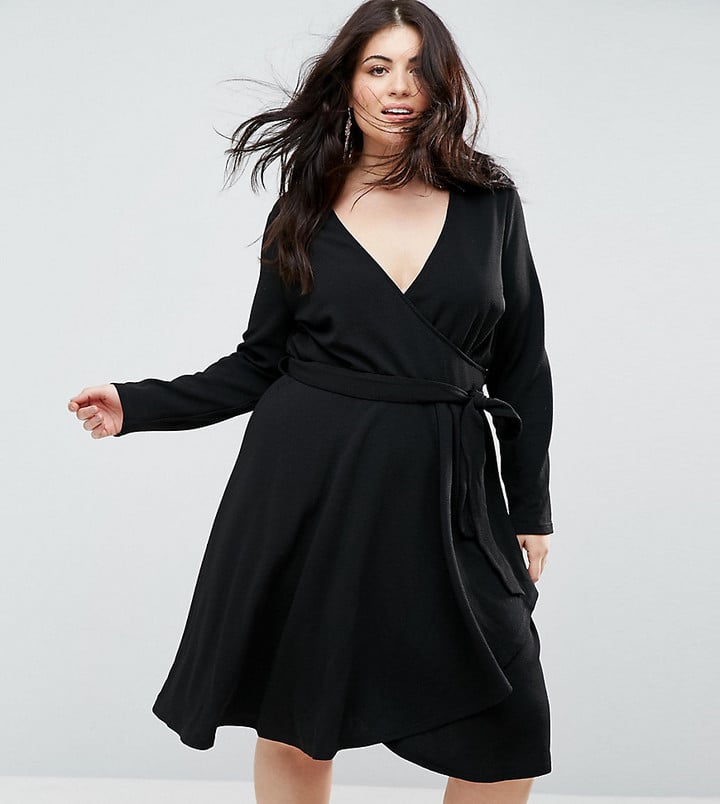 A wrap dress is a staple piece every woman should have in her wardrobe. Fit for every occasion, this product is definitely not an exception. This dress is perfect for figures with fuller upper bodies or broad shoulders. This is because the V neckline gives the illusion of a longer chest, as against your broad shoulders. Also, the sleeves are well-tailored to cover your upper arms. If you are strawberry-shaped, then this is for you.