The sun has started hiding behind the clouds, and the green leaves are turning yellow. This is a clear sign that autumn is just around the corner, and it's needless to say that you have to shop for the right activewear now that the winds are getting chillier. So, if you want to get your hands on nice activewear sets that go well with your pretty coats and trench jackets, we are sharing some options!
1. AirWear Sports Bra & Bike Shorts Set
If you are someone who wears long coats over everything, this set will be a perfect option for your gym sessions. That's because it has a very autumn-y color, which means you will be slaying the autumn looks. The set has a unique texture, which helps wick the moisture without compromising on breathability. This means that you will warm up fine for the workout but won't smell bad.
The set is designed with chest support, which gives you a shockproof experience. In addition, the set is made from sculpting and lifting material, which provides great body lift. All in all, it's a thumbs-up from us.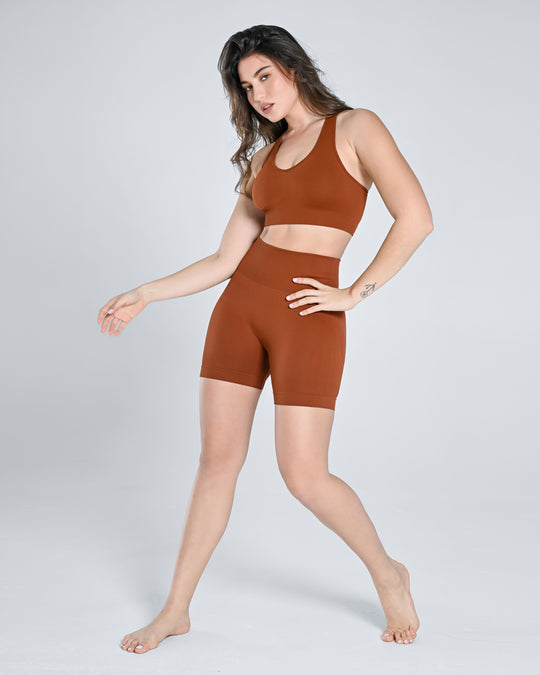 2. Seamless Crop Tank & Leggings Set
Feeling cold in autumn is obvious, so if you want a set that provides maximum warmth and coverage, this is a perfect option. It comes with high waisted leggings, so you feel most comfortable. This set is designed with a support bra-come-crop tank, which promises utmost comfort and coverage. There is no front seam or camel toe, so you don't have to worry about bad fitting.
There is a V cut on the back of the crop tank, which helps enhance your curves. In addition, the leggings are designed with contouring panels, so your legs have a great shape. On top of everything, the fabric has four-side stretch, so there is no hindrance in your workouts.
3. AirWear Sports Bra & Bike Shorts Set
There is nothing more comfortable and convenient than bike shorts when it comes to working out, and this set will become the activewear set of your dreams. Designed in black color, it's a perfect autumn color, so you don't have to worry about the style. The sports bra is designed with a racer-back fit, and the chest has a V-neck on the front, promising curve enhancement and a comfy fit.
The set is made from recycled nylon material, which means it will fit you like a second skin. All in all, this set is an apt choice for lounging and yoga, whatever you prefer.
4. Seamless Bra & High-Waist Legging Set
In case you want to add some color to your life, get your hands on this lettuce-colored set. It promises great coverage through a seamless bra, while high-waist legging will make it easier to move during light and medium-intensity workouts. In addition, there are contouring panels on the glute and leg, so you can easily move around. Having said that, are you ready to lift?