Spreading body positivity when it comes to active wears is extremely important. It is much obvious the vast range of individuals look for brands which sell active wears suitable for their body type and their size. People with different body types and varied body goals look up to purchasing active wears from brands who aim to promote body positivity.
1. Old Navy: High-Waisted Elevate Powersoft 7/8-Length Plus-Size Leggings
Old navy is one such brand which promotes body positivity through its products. The High waisted Elevate Powersoft 7 / 8 – Length- plus size leggings of Old Navy is a sports leggings which come in various sizes. The said leggings of 7 / 8 length reach right above the ankle. It hugs your body by properly fitting your thighs and hips with an elasticized waistband. The fabric used is of Powersoft which is breathable & appears smooth and provides compression to your legs. The moisture-wicking technology makes it even more suitable for workouts as it keeps you dry & comfortable. The size extends from 1X to 4X.
2. Nike Sportswear Essential
The sportswear essential by Nike also come in different sizes ranging from US X1 to US X3, the spreading body positivity. The Nike Yoga Tank is made up of soft and light-weighted fabric which is stretchable and well suited for yoga and other such workouts. The tank top is easy to wear and provides optimal elasticity for carrying out workouts like yoga.
3. LIVI Medium-Impact Seamless No-Wire Sport Bra With Wicking
The medium-impact no-wire sport bra with wicking by LIVI is ideal sportswear for women which is suitable for carrying out different types of workouts. LIVI is a brand which supports body positivity abs its products come in different sizes. The medium impact sports bra comes in 4 sizes so that customers can purchase the product of the required size. The sports bra is very comfortable as it is non – wired & made up of a stretchable material & supports your chest as well as reduces bounce when working out.
4. The Pink Moon: BLUE SPORTS JACKET
Pink Moon is a brand very much aware of different body types of people and aims to promote body positivity through its products. The blue sports jacket by pink moon specially designed for plus size users come in six different sizes ranging from XL to 6 XL. Made with polyester & lycra, Pink Moon blue sports is blue and provides medium stretch when carrying out some fitness activity. The sports jacket can also be worn casually.
5. Hold Tight Biker Shorts: 4-inch inseam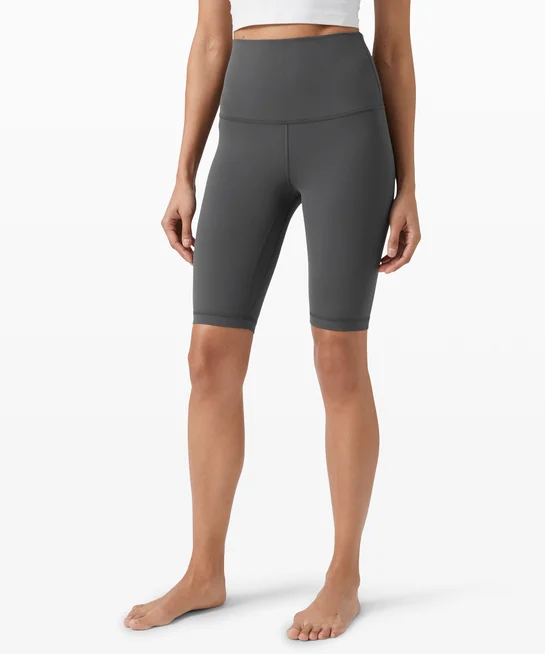 The Lululemon high rise Shorts are sportswear which comes in 6 different sizes for its users. The biker shorts provide light to medium compression so that it is comfortable to wear & the 4 was super-stretch helps in performing any activity. It has a high waisted waistband and pockets at both sides. Not only does it keep you dry & comfortable due to the moisture-wicking technology but also prevents chafing through the flatlock seams.
Conclusion
There are quite a several brands which keep in mind the aspect of promoting body positivity & hence take care of manufacturing their sportswear in different sizes so that it suits the body sizes of the different people in the population.