Women have started accepting their bodies, and they have accepted the fact that they have to focus on their bodies. The good thing is that this acceptance comes from every bit of the world because you can see women of every shape and size on brand websites, social media, fashion ramps, and magazines.
It wouldn't be wrong to say that inclusivity and positive body image have become the ultimate trends, and the girls who weren't included have a space of their own now. We have been used to seeing the hourglass bodies, which is only achievable for some. For this reason, it's important to acknowledge and embrace different types of bodies.
Anyhow, when it comes down to focusing on yourself and prioritizing your physical health, you cannot ignore having the right activewear. That's the reason we are sharing about Cosmolle because their yoga sets and activewear have caught everyone's attention and for the right reasons. So, if you want to give it a new look, it's time to read ahead!
Biker Shorts Set
When it comes down to working out, you cannot do anything if your clothes aren't comfortable. That's because working out needs flexible clothing that allows you to move in whichever direction you've to. For this reason, we are talking about this biker shorts set. As the name suggests, it comes with shorts as well as a support bra.
The shorts are designed with a high-waist feature, so your waist will get the shape. In addition, the shorts' bottom has a peach design, which helps uplift the buttocks – it's something sexy and very flattering for women. In fact, it makes them feel good about themselves.
As far as the support bra is concerned, these wide shoulder straps give you a lot of support, especially for big-busted women. Also, the hemline is wide, so you don't have to worry about the coverage. The set is actually available in different sizes and colors, making it suitable for every woman, irrespective of her fashion requirements.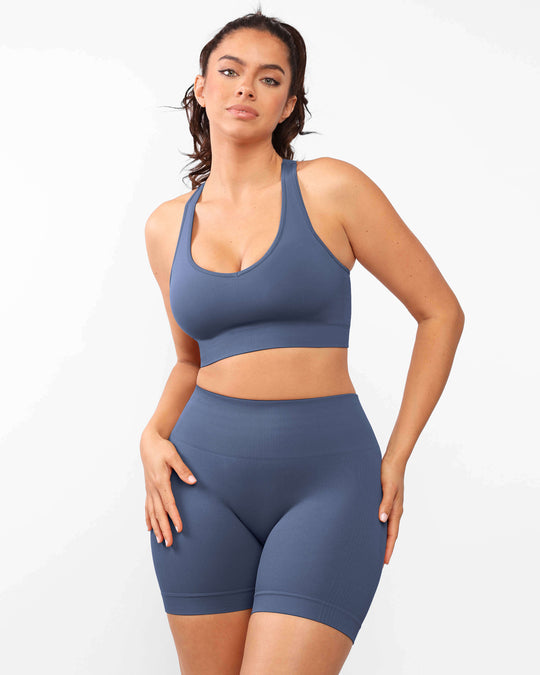 Premium Seamless Sports Bra
If you want to create a cohesive look, a sports bra and shorts set is the right choice. However, there are people who need something that they can mix and match. For all those people, this premium bra is everything. The bra has a seamless look, which means it can be paired with a variety of leggings before you head to the gym.
In fact, you can wear it with regular pants as well and create a look for your hangouts. Coming back to the features, the thin straps create a chic and edgy look. What we love about this bra is the wide hemline because it increases the coverage and support for breasts. So, it's a good choice if you want to work out comfortably and still be stylish.
There are bra pads in this bra, which help give shape to the breasts. However, if you don't like it, you can take the pads out – Cosmolle has thought about your comfort from every angle.
Premium Seamless Full Length Bodysuit
If you are a woman who loves style, it goes without saying that you want never-ending access to bodysuits. That's because they are comfortable, stylish, and flatter your figure, no matter how fat or thin you are. Having said that, this bodysuit is a perfect choice for women who like to work out and need coverage as well.
The bodysuit comes with attached leggings, so your legs will be fully coverage. In addition, the top area has a scoop neckline, which adds a sexy factor (who doesn't want that?). The wide shoulder straps will help keep the bodysuit in shape, no matter how intense the workouts get.
Cosmolle has used the softest fabric for this bodysuit, so your workout experience is comfortable, and your skin doesn't suffer from irritation. In fact, they have used a moisture—wicking material, which absorbs the sweat to prevent rashes. There are no uncomfortable seams either because they have used front-locked seams, which helps create a cohesive look.
Premium Seamless High Neck Tank Top
We haven't seen a girl who doesn't like tank tops. That's because the tank tops are a perfect balance of sophistication and fun fashion. Having said that, this tank top by Cosmolle is a promising choice for ladies who want to work out and need additional support for their breasts (it's important to prevent sagging of breasts).
They have added bra pads, which help give shape to your body. In addition, the high neck design makes sure your body is covered because it's the priority of some women. In fact, the hemline of this top is wide, making it easier to cover the entire breast area. Not to forget, the color is incredibly sharp, and you will surely stand out!