It cannot be denied that a one-piece swimming/bathing suit is just perfect for summer wardrobe. Don't get us wrong! A bikini is a classic beach summer dress too, but a one-piece is just the right way to go if you want to stay constant during the transition from beach to dinner without missing a beat. The one-piece dress is your staple for all sorts of water-related event. You can throw in your favourite pair of high-waisted shorts or get a breezy skirt to create a simple daytime look.
The best part is, you can never have too many one pieces. These are great for travel purposes. They are sometimes more conservative than bikinis. Thus, the one-piece swimwear is ideal for wearing them in countries where too much midriff is frowned upon. That being said let us share some of the best stylish travel one-piece swimwear.
Get into a retro one-piece swimwear outfit this summer with this trendy printed swimwear. The slimming pinstripes will offer a vaguely business-shirt look. On the other hand the deep back and high cut legs will leave very little for imagination. Undeniably sexy, yet subtle!
Check this super-smart reversible one that is just ideal for a traveller who is looking for a two-in-one swimsuit. This one comes in bubble-gum pink and sunshine yellow, the right colors for a variety of skin tones. It has got a halter-style neckline that is low enough to offset any frumpiness that you might feel in a one-piece.
This one is for those looking for plus-sized swimwear. Who said plus-sized swimwear cannot be cute yet sexy? The floral prints are so in trend and you are going to love the bright colors, the playful chest and shoulder strap cut-outs on the Victorian Garden one-piece. There is an adjustable tie back and full bottom coverage for ensuring optimum comfort.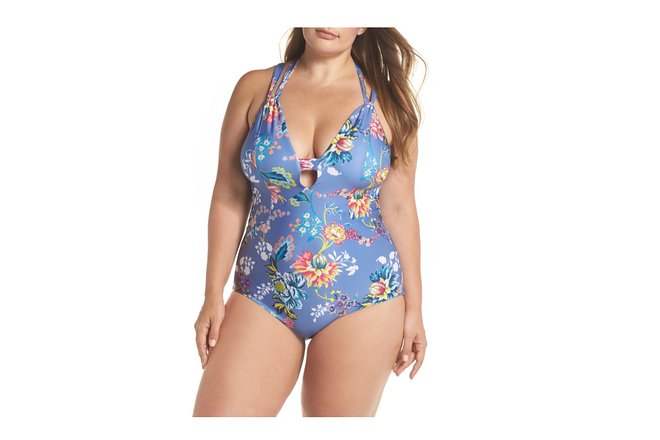 If you want to spend a lot of time sunbathing or swimming, then you might feel like you need a few different swimsuits to get through, a sexy one for the pool and beach parties, a sporty one for the gym, a simple one for conservative destinations and more. You can get multiple ones, but a black swimwear will do the entire trick for you. The classic black colour and full-bottom coverage offers a properly conservative twist. The flattering neckline adds a flirtatious vibe as well.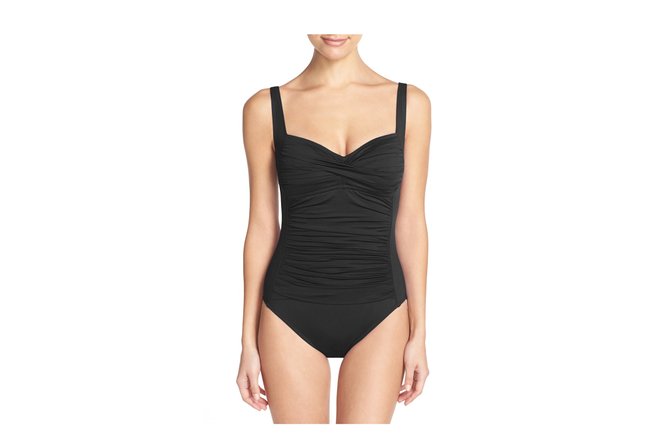 Finally, if you are looking for something unique, then you can opt for this 1950s pin-up girl look. It comes with pinpoint white dots and the shape is oh-so vintage. It has got a full back and a halter-top neckline. The underwire bust support makes it much more comfortable option.