Maxi dresses have one of the strongest appeals among seasonal trends. If you are looking for the best maxi dresses to fit your style this fall season, then you might be spoilt for choices. Maxi dresses have a unique semi-casual identity known uniquely for the full-length design. As the popularity of maxi dresses increases continuously, we can witness more variety in their designs.
Although the styles of maxi dresses vary from year to year, there are certain designs that render a timeless quality. Sometimes, the off-the-shoulder look gains recognition while at times, the attention turns towards wrap and V-neck styles or bold floral patterns. So, clear off your confusion and take a look at these five interesting maxi dress designs you might love for fall 2020.
Checkered Long Shirt Dress
The Checkered Long Shirt Dress by GANNI is definitely a sure pick for the sophisticated lady. There is no reason you can deny a practical check print shirt dress in your wardrobe. You can find the easy button fastening on the front in this maxi dress design as a perfect companion for comfort. The loose fit of this maxi dress leaves you open to try out combinations with jeans to boost your style. Interestingly, you can also leave the bottom buttons undone for creating your own slit detail for the perfect 'oomph' appeal!
Vichy Pattern Long Dress
When the name of Fendi comes on, there's something more to expect that your run-of-the-mill maxi dress design. Fabricated from silk, the Vichy Pattern Long Dress by Fendi spells new benchmarks of comfort with style. This is the perfect maxi dress that could complement your looks for any occasion. The Vichy Pattern Long Dress is ideal for sophisticated events where you need to button up. Moreover, you can wear it on a casual trip to the countryside with nothing more to top it off than a stylish hat.
Printed Maxi Dress
The Printed Silk-Twill Maxi Dress by Gucci speaks more of quality than the brand associated with it. This design is suitable for anyone looking to experiment with something beyond floral and stripe designs in maxi dresses. The boldness of the animal motif with the feline garden pattern delivers uniqueness with a hint of your confidence. You can complement it with black leather outerwear or a denim jacket for adding up to your style quotient.
Ava Tiered Floral Fil Coupe Gown
If you are looking for a simplistic yet royal touch in a maxi dress, then the Ava Tiered Floral Fil Coupe Gown by ERDEM can be the right pick for you. The sleeveless style shows off your arms graciously with a floor-sweeping hem that can make you feel nothing less than a princess.
Multi Striped Tiered Maxi Slip Dress
Multi Striped Tiered Maxi Slip designs can also work great for fall season 2020. The maxi dress design works perfectly for casual occasions and demands minimum accessories to bring out your fashion statement. The silhouette of this design is enough to make heads turn within the blink of an eye!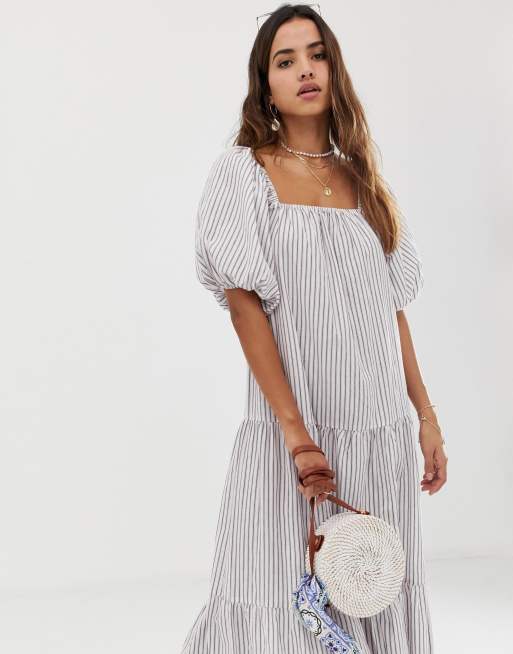 There are many more maxi dress designs out there. Go ahead and explore to find the one that suits you well!