Who is not excited when it comes to jewelry? Not only because of its captivating shape, but jewelry can always make women feel more beautiful and more confident. Jewelry has the ability to highlight a woman's personality and showcase her best features while wearing the right clothes for the right occasion. By adding accessories to the clothes we wear, we can create a more charming appearance instantly. Jewelry can be regarded as the focal point of one's appearance.
You certainly also realize that every year jewelry trends are always changing. As a fashionable person, you certainly don't want to miss what the best jewelry is in demand this year. The inspiration for the best jewelry is taken from the luxurious appearance of Hollywood celebrities at various red carpet events. Of course, aside from their fabulous dresses, the jewelry they wear can always steal our attention too.
Even if you don't intend to buy the same jewelry, make sure you don't miss the 5 best jewelry information below. Who knows, you might be inspired to wear it too to make your appearance more stunning!
1. Emerald Jewelry
Precious stones have become one of the most popular jewelry from year to year. For this year, emerald jewelry is on the rise. Jewelry ranging from necklaces, rings, bracelets, and earrings of various designs will always look luxurious with the addition of emeralds. Because of the beauty of its color, Emerald is known as one of the most beautiful gemstones of all time. Emerald is a symbol of birth, fertility, love, and immortality.
The luxury emerald jewelry trend was also seen at several red carpet events this year. Hollywood celebrities look stunning with a variety of emerald jewelry they wear. Just look at Lady Gaga at the BAFTA 2022 who wore a glamorous emerald and diamond-studded necklace. She also completed her look with matching earrings. Other stars such as H.E.R, Naomi Campbell, Daisy Ridley, Selena Gomez, and Vanessa Hudgens were also spotted wearing beautiful emerald jewelry that stole the show at various red carpet events this year. And they look awesome!
2. Diamond Jewelry
Another luxury piece of jewelry that is popular both among celebrities and all of us, is diamond jewelry. Diamonds are a symbol of luxury and elegance. You don't even need elaborate designs on your accessories, just add diamonds and you will instantly look classy. Zendaya's style on the 2022 Oscars red carpet might inspire you to follow this trend. She wore Serpenti jewelry from Bulgari, a white gold necklace adorned with 13-carat diamonds, paired with a diamond-studded bracelet and ring. It's a perfect mix of glamor, elegance, and sexy.
3. Drop Earrings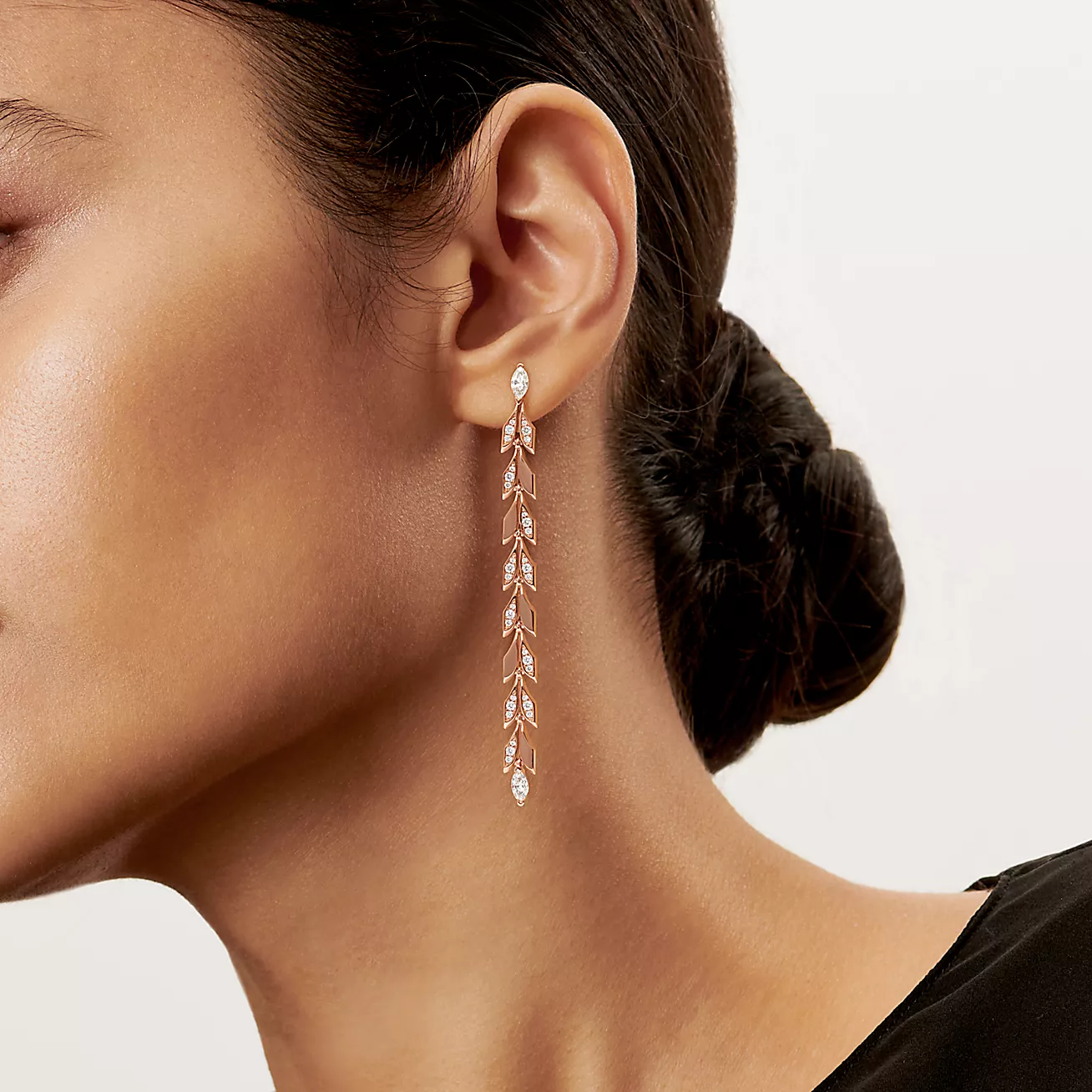 https://www.tiffany.com/jewelry/earrings/tiffany-victoria-vine-drop-earrings-69523501/
Drop earrings are also worth a look because they are popular these days. This is a piece of jewelry that is always popular with women because it gives the impression of being elegant, feminine, and classy. Some luxury jewelry brands such as Gucci and Tiffany & Co. have a collection of charming drop earrings that you must see. Drop earrings in the shape of a leaf strand are trending and were worn by Mila Kunis at the Oscars 2022.
4. Chunky Chains
Chains are one of the popular accessories this year, even some well-known jewelry brands such as Gucci make it more unique by designing super large chain necklaces or what we know as chunky chains necklaces. This jewelry does look quirky but can really change your appearance to be stunning. Because the shape is already striking, you can combine chunky chain jewelry with simple outfits, for example, a plain long dress for a party or a plain t-shirt for a casual event. Also, make sure you don't wear other accessories that are too big. Simple but very statement.
5. Chocker
Chocker is one type of necklace that is adored by many women, even this became one of the favorite pieces of jewelry of celebrities that they wear on the red carpets. A choker is a piece of jewelry that you can wear in various events and situations. The sizes, designs, and materials are very diverse so you can choose according to your needs and desires. If you want a choker with a flattering and luxurious design, this Folie des Prés necklace from Van Cleef & Arpels can be your inspiration. When you wear it, your appearance will instantly become elegant and classy!
Well, those are the 5 best pieces of jewelry that you should check to keep your appearance stylish and trendy. Luxury jewelry brands are expensive, but following their latest collections is not wrong either. Who knows you may be inspired to wear similar jewelry. So, which jewelry do you like the most?